Industrial Track Lighting
Explore Kosoom's various industrial track lighting options. Our industrial track lights combine functionality and style, perfect for adding a contemporary feel to any space. Explore our range of industrial track lighting to find the perfect fixture to brighten your industrial-style interior.
Industrial Track Lighting for Every Space
Versatile Industrial Track Lights
Our versatile industrial track lights are the perfect solution for enhancing the ambiance of your industrial space. Designed with a focus on providing precise and focused illumination, these track lights are ideal for highlighting specific areas or objects in your environment. Whether you're looking to illuminate a gallery, retail store, or workspace, our track lights offer adjustable beams and flexible installation options to meet your unique requirements.
With their adjustable features, our track lights allow you to easily direct the light exactly where you need it. Whether you want to highlight artwork, accentuate architectural features, or create task lighting in a workspace, our track lights offer the versatility to achieve your desired lighting effects. The adjustable beams ensure that you can focus the light precisely on the desired area, creating a visually appealing and functional lighting setup.
Our industrial track lights provide flexible installation options, allowing you to customize the placement and configuration of your lighting system. Whether you prefer a linear arrangement or a more complex layout, our track lights can be easily installed and adjusted to suit your specific space. This versatility enables you to create a lighting design that complements your overall aesthetic and enhances the atmosphere of your industrial environment.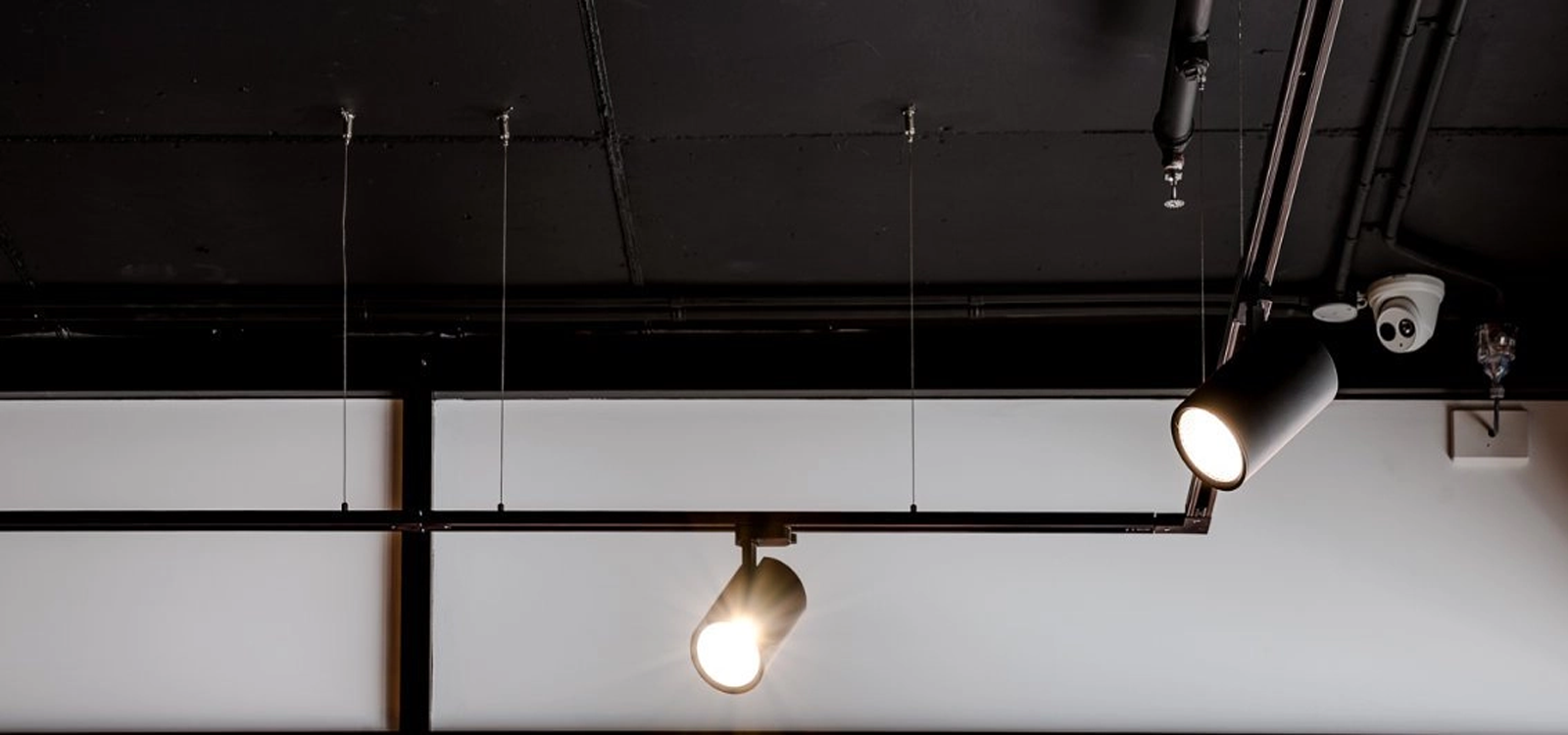 When you choose our versatile industrial track lights, you can expect a combination of functionality and style. Our lights are not only designed to provide optimal illumination but also to enhance the visual appeal of your space. With their sleek and contemporary designs, our track lights add a touch of modernity to any industrial setting, elevating the overall look and feel of the environment.
Experience the flexibility and versatility of our industrial track lights and transform your industrial space into a well-lit and visually captivating area. Whether it's a gallery showcasing artwork, a retail store highlighting products, or a workspace requiring focused lighting, our versatile track lights are the perfect choice. Illuminate your space with Kosoom's industrial track lighting and create an atmosphere that is both functional and aesthetically pleasing.
Stylish Industrial Track Light Fixtures
Elevate the style of your industrial-themed interiors with our collection of stylish industrial track light fixtures. Designed with a keen focus on aesthetics, our track light fixtures are the perfect addition to enhance the visual appeal of your space. Whether you prefer sleek and minimalist designs or rugged and rustic options, we offer a wide range of styles to suit your taste and complement your existing decor.
Our track light fixtures are crafted with precision and attention to detail, ensuring that each piece reflects the highest standards of quality and craftsmanship. The sleek and minimalist designs bring a touch of modern sophistication to your industrial setting, while the rugged and rustic options add a charming and authentic appeal. Whatever your preferred style, our track light fixtures are designed to seamlessly integrate into your space and enhance its overall ambiance.
In addition to their stylish designs, our industrial track light fixtures offer a variety of finishes and materials to choose from. Whether you prefer the industrial chic of brushed metal, the warmth of aged brass, or the sleekness of matte black, we have options to suit every preference. Our track light fixtures are carefully curated to provide a cohesive look in your space, allowing you to create a harmonious and visually appealing environment.
When selecting our industrial track light fixtures, you can expect not only style but also functionality. Each fixture is designed to provide optimal illumination, ensuring that your space is well-lit and inviting. Whether you're illuminating a dining area, a workspace, or a retail display, our track light fixtures deliver both form and function, allowing you to create a visually stunning and well-lit environment.
Track lighting embraces rustic elegance
Embrace the rustic elegance of our track lighting and create a warm and inviting atmosphere in your space. Perfectly blending rustic charm with modern design elements, these fixtures are specifically designed to complement farmhouse-inspired interiors.
Our track lighting combines the best of both worlds, incorporating vintage elements and contemporary aesthetics. The use of metal accents, such as wrought iron or brushed bronze, adds a nostalgic touch that harkens back to the charm of old-world farmhouse lighting. Exposed bulbs further enhance the vintage appeal, providing a raw and feel to the fixtures.
To add to the rustic charm, our track lighting features weathered finishes that give the fixtures an aged and worn appearance. These finishes, such as distressed wood or oxidized metal, contribute to the authenticity and character of the lighting, evoking a sense of history and nostalgia.
Illuminate various areas of your home, including the living room, kitchen, or dining area, with our track lighting. The warm glow emitted by these fixtures creates an inviting ambiance, making your space feel cozy and comfortable. Whether you're hosting family gatherings, enjoying a meal with loved ones, or simply relaxing in your living room, our track lighting sets the perfect mood for any occasion.
With their unique blend of old-world charm and modern aesthetics, our track lighting fixtures serve as a focal point in your space, adding character and style to your farmhouse-inspired interiors. They offer a perfect balance between rustic elegance and contemporary design, creating a visually captivating environment that reflects your personal style and taste.
Choose Kosoom's track lighting to bring the timeless charm of rustic elegance into your home. Let the combination of vintage-inspired elements and modern design transform your living spaces into inviting and stylish retreats. Illuminate your farmhouse-inspired interiors with our track lighting and experience the perfect fusion of old-world charm and modern aesthetics.
Experience the Kosoom Difference
Quality and Durability
At Kosoom, we understand the importance of quality and durability when it comes to industrial track lighting. That's why we prioritize these aspects in the design and manufacturing of our lighting products.
Every industrial track lighting fixture from Kosoom is crafted using high-quality materials that are carefully selected for their strength, reliability, and longevity. We believe that only the best materials can deliver the performance and durability our customers deserve. From robust metals to sturdy components, each element is chosen to ensure the overall quality and resilience of our fixtures.
To guarantee the reliability and longevity of our industrial track lights, we subject them to rigorous testing procedures. We simulate various environmental conditions and usage scenarios to evaluate their performance under different circumstances. This testing process allows us to identify any potential weaknesses and make necessary improvements to enhance the overall durability of our products.
Our industrial track lights are specifically designed to withstand the demands of both commercial and residential environments. Whether it's a bustling retail establishment, a busy office space, or a residential setting, our lighting fixtures are built to handle the rigors of everyday use. They are resistant to vibrations, impacts, and other factors that may compromise their performance, ensuring that they can withstand the test of time.
Investing in our industrial track lighting means investing in reliable and long-lasting lighting solutions. You can have peace of mind knowing that our fixtures are built to last, providing you with consistent and high-quality illumination for years to come. We stand behind the quality and durability of our products, and we are confident that they will exceed your expectations.
Choose Kosoom for industrial track lighting that combines exceptional quality, durability, and performance. Experience the difference that well-crafted and reliable lighting solutions can make in your space. Illuminate your surroundings with confidence, knowing that our industrial track lights are designed to meet the highest standards of quality and durability.
Expert Guidance and Support
We understand the importance of finding the right lighting solutions for your space. Our team of experts is available to provide guidance and support throughout your selection process. Whether you have questions about installation, compatibility, or design, we're here to assist you and ensure that you make informed decisions.
Kosoom offers a diverse range of industrial track lighting options, including industrial farmhouse track lighting. With our versatile and stylish track light fixtures, you can enhance the ambiance of any space while enjoying the perfect blend of functionality and aesthetics. Choose Kosoom for high-quality lighting solutions backed by expert guidance and support.
Please note that the paragraph lengths and word counts in the final version may vary slightly depending on the formatting requirements of the platform where the content will be published.