Colourful LED strip lights are becoming a popular choice in today's interior design and decoration, as they not only provide lighting functionality but also add a unique ambience and creative element to a space. Whether it's a home, a commercial space or a festive decoration, colourful LED strips are gaining popularity for their flexibility and outstanding results.
This article will take you through the different types of colourful LED strips and tips on how they can be used in a variety of decorative scenarios to brighten up your space with creative light.
1. Enriching your interior: creative applications for coloured LED strips
Coloured LED strips are becoming increasingly popular in home décor. They offer an understated and colourful way of lighting up a room, highlighting its architectural details and adding a warm and friendly atmosphere. Coloured LED strips offer a wide choice of light colours, enabling you to tailor the lighting ambience of your room to your preferences and needs. Here are some creative applications for decorating with coloured LED strips.
1.1 Choosing the right LED strip colour
For achieving the desired lighting and decorative effect, choosing the right LED strip colour is crucial. Warm white LED strips are favoured for the amber light they emit, creating a cosy and warm ambience that is perfect for a relaxed and restful living room environment. Cool white LED strips, on the other hand, have a blue tint that enhances concentration and is ideal for workshop or office lighting. Neutral white LED strips emit light similar to natural light and have a stimulating effect, making them suitable for installation in kitchens or bathrooms. In addition, multi-coloured LED strips combine green, red and blue light to give you even more creative options.
1.2 Applications for a colourful atmosphere
Coloured LED strips have a wide range of applications and can be used in different ways to create a colourful atmosphere in your home. You can mount LED strips on ceilings or walls to illuminate rooms and highlight architectural details. Alternatively, coloured LED strips can be placed at the base of furniture or at the edge of a back wall to add layers and depth to a room. Depending on the holiday or occasion, you can choose different lighting colours, such as red and green for Christmas decorations or orange and purple for Halloween ambience, as well as custom coloured lights to celebrate special occasions.
1.3 Creative use of interior lighting
Coloured LED strips can be used in creative ways for interior lighting. For example, you can install LED strips around a screen in a home cinema or media room to create a cinema-like atmosphere.
Depending on what is being shown, you can adjust the light colour to enhance the viewing experience. In addition, LED strips can be used to decorate furniture such as TV cabinets, bookshelves and headboards, adding a stylish and modern touch to furniture while providing soft ambient lighting.
Whichever creative application you choose, remember to plan and install your LED strips sensibly to ensure they match the overall interior design and electrical safety requirements. Choosing high quality LED strips and controllers will ensure a consistent lighting effect and experience over time. Let coloured LED strips bring endless possibilities to your home, creating a unique and welcoming interior.
2. How multi-coloured LED strips work and how they are controlled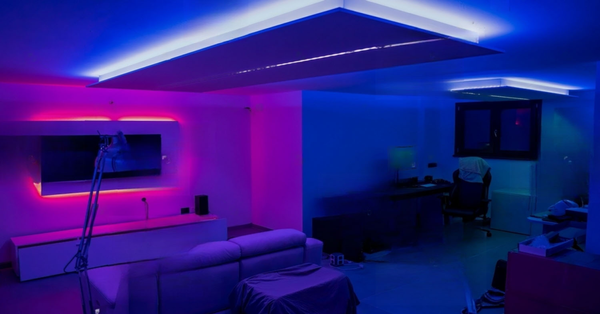 Multi-colour LED strips, such as RGB multicolour LED strips, enable the display of different colours by means of an integrated chip. These LED strips have three primary colour LEDs integrated inside, red, green and blue, which can be adjusted to produce various shades by adjusting the brightness and mixing ratio of each primary colour. To control the colour and luminosity of the LED strip, it is usually equipped with an RGB controller and an LED remote control of the latest generation.
The RGB controller is a device that is installed between the LED strip and the power supply. Its function is to receive signals from the remote control and translate them into the corresponding commands to control the operating mode and lighting effects of the LED strip. With the RGB controller you can select different colour patterns, adjust the brightness, set colour jumps or gradient effects, etc. This allows you to adjust the lighting in the room at any time to suit your preferences and needs.
The LED remote control that comes with the LED strip is the key tool for controlling the RGB strip. Using the remote control, you can easily switch light colours, adjust brightness and modify light intensity. Some remotes also offer pre-set lighting patterns such as fades, dips, flickers and other special effects, allowing you to easily create a variety of unique lighting atmospheres.
With the multi-coloured LED strips, you can freely adjust the interior lighting to your personal preferences and the needs of the scene. Whether in home décor or in a commercial environment, multi-coloured LED strips offer great flexibility and scope for creativity, allowing you to create individual, colourful and stunning lighting effects.
3. Different types of coloured LED strips: choose the right one for your interior
The different types of coloured LED strips offer a wide range of options for your interior decoration. You can choose between different power supply options and different lengths of LED strips, such as 12V, 24V or 220V, depending on your needs and preferences.The following are some descriptions of the different types of coloured LED strips:
3.1 Multiple power supply options and length choices
LED strips offer a wide range of power supply options and lengths to suit different decorative needs. 12V multi-coloured LED strips are usually equipped with an RGB controller and remote control and are suitable for home use. You can install them on a fireplace or around a window to add a unique lighting effect to a room. The 24V multi-colour LED strip, on the other hand, is based on green, blue and red and requires an LED transformer to provide power. It has excellent colour rendering properties and is suitable for scenarios where the installation distance is up to 20 metres.
3.2 Powerful 220V multi-colour LED strip
The 220V multi-colour LED strip has a powerful light output and is perfectly suited to installations of more than 20 metres. With lengths of up to 50 metres, they can be installed on cornices, beams or façades to bring bright illumination to the entire room. In addition, 220V LED strips are also commonly used for event decoration and are quick and easy to install as they do not require a transformer and connect directly to the universal power cable.
3.3 Safety and suitability considerations: 12V and 24V LED strips
Safety and suitability are factors to consider when choosing an LED strip. 12V multi-coloured LED strips equipped with an LED transformer are ideal for domestic use and can be installed in areas such as fireplaces and around windows to add decorative lighting to the interior. In addition, 12V low voltage strips are also suitable for wet room environments. For those requiring longer installation distances and water feature decoration, the 24V multi-colour LED strip is ideal, offering excellent colour rendering and being suitable for wet environments.
By choosing the right type of coloured LED strip for your needs, you can add a unique lighting effect to your interior décor. Make sure you choose the right power supply and length for the situation, as well as the installation method that meets safety standards, to create a stunning lighting ambience.
4. Decorative tips for multi-coloured LED strips: add a unique atmosphere to your space
Multi-coloured LED strips are one of the decorative tricks to create a unique atmosphere. Whether during the festive season or in everyday life, the use of LED strips can add a fascinating visual effect to your space. Here are some tips for decorating with colourful LED strips:
Creative Christmas decorations: brighten up the festive mood with colourful LED strips. You can draw glowing reindeer or Christmas trees on the walls and decorate the bottom of the walls with small paper gifts to surprise your family.
Festive decorations for outdoor spaces: Use RGB IP65 strips outdoors. You can place LED strips around flower pots, garden sheds or balcony railings, or install them around large outdoor swimming pools to create a whimsical atmosphere and add festive cheer to outdoor spaces.
Essential party lighting: colourful LED strips are ideal for creating a unique atmosphere at parties. You can use LED strips to emphasise the contours of tables, easily create corners with LED connectors or mark out lively dance floor areas with RGB strips around the dance floor.
Cozy light in the bedroom: Illuminate your bedroom with colourful LED strips to create a soft ambience and add colour to the space. You can place LED strips under the bed to accentuate its contours, or mount them on either side of the headboard, or place them around a mirror to add style to a dressing table.
Living room decorative focal point: create a friendly atmosphere in your living room with colourful RGB LED strips. You can install LED strips around the TV or its box to create a diffused light, or place them around the living room ceiling to create a beautiful backlit effect. At the same time, you can place LED strips on bookshelves or under coffee tables to bring a vibrant lighting effect to your living room.
Unique lighting for bars: create a unique touch and showcase your bar with colourful LED strips. You can place LED strips underneath the top of the counter to create a beautiful lighting effect. Alternatively, you can place LED strips on bar shelves to beautify precious bottles and the remote control can change the lighting atmosphere as required.
Shop brightening promotion: Enhance your shop's image and visibility with colourful LED strips. You can install colourful light-up strips in front of your shop, around windows or on shelves to make your shop an eye-catching place. Especially in outdoor workplaces, you can get a strong light with colourful 220V LED strips, while IP65-rated models are perfect for outdoor use.
Accentuate the staircase design: using coloured LED strips installed along the staircase enhances safety and adds designer style to the staircase at the same time. You can place the LED strip on the side of the staircase or under the front edge of the staircase to accentuate the architectural style of the staircase. Alternatively, place coloured LED strips on the steps leading up to the front door to add a welcoming atmosphere to your house.
With these colourful LED strip decorating tips you can create a unique atmosphere for different spaces and create an impressive visual effect. Let LED strips be your creative tool for decorating and lighting up your space.
Whether it's creating a romantic bedroom atmosphere or creating stunning outdoor décor, colourful LED strips offer endless ideas and possibilities. With their wide choice of colours, adjustable brightness and ease of installation, they are a great addition to modern interior design and decoration.
Whether you want to add a warm ambience to your home environment or create a unique brand image for your commercial premises, colourful LED strips can be the ideal choice for you. Unleash your creativity and let colourful LED strips light up your space and bring you a unique visual enjoyment.
Related articles:
https://www.kosoom.com/the-ultimate-guide-to-effortlessly-installing-led-strip-lights-at-home
FAQ
Q: What scenes and spaces are multi-coloured LED strips suitable for?
A: Multi-coloured LED strips are suitable for a variety of scenes and spaces, including family homes, commercial premises, outdoor environments and festive decorations. You can use them in indoor spaces such as bedrooms, living rooms, kitchens and bathrooms, or you can install them in outdoor areas such as gardens, terraces and swimming pools.
Q: How do I choose the right colourful LED strip?
A: There are several factors to consider when choosing the right colourful LED strip. Firstly, determine the type of voltage required, such as 12V, 24V or 220V, to be compatible with your power supply. Secondly, choose the right length of strip according to the size of the installation space, such as 1 m, 5 m, 10 m, etc. Finally, consider the features of the strip, such as waterproof rating, brightness adjustment and remote control function.
Q: How can I use colourful LED strips in festive decorations?
A: Multi-coloured LED strips are ideal for creating a festive atmosphere. You can use their flexibility and colourful effect to decorate Christmas trees, walls, windows and more to create a distinctive festive atmosphere. You can also wrap the strips around outdoor areas such as planters and balcony railings to add a festive glow to the whole space.
Q: How can I use colourful LED strips in my home décor?
A: Colourful LED strips can be used to highlight design details and create a warm atmosphere in your home décor. You can install them on headboards, around mirrors, under bookshelves etc. to add a soft lighting effect to areas such as bedrooms, bathrooms and living rooms. Alternatively, you can install them on staircases, along the edges of walls, etc. to enhance the design of your space.
Q: How difficult is it to install the multi-coloured LED strips? Can I install it myself?
A: Multi-colour LED strips are relatively easy to install and can be done by yourself. They usually come with an adhesive backing and can be attached directly to the desired location. In addition, some strips are equipped with connectors and fixing clips to make installation even easier. However, for some complex installations requiring electrical connections, it is advisable to seek professional help to ensure safety and correctness.