KOSOOM × TANK
KOSOOM green, environmentally friendly and efficient lighting concept
TANK focuses on advanced and unique design sense
"Tank is a brand of Valenti Multistore srl. This project is located at Via Rovato, 44, 25030 Erbusco BS. The company was established in 1986 and has two brands. There are nearly 30 stores in northern Italy, focusing on high-end and unique design. For clothing, KOSOOM combines its unique design sense and rich quality brand culture to provide suitable lighting solutions for this purpose.
Provide customers with high-value, high-quality products, so that the products can bring customers a shopping experience of high-end emotional value. "
Design and installation solutions
Adhering to the concept of "high quality, unique design sense and environmental protection", the project adopts the combination of CSL004-A grille elephant trunk light, TRL003 series rail spotlight and LED strip light for the overall lighting of the store, CSL004-A grille elephant trunk light and LED rail spotlight do the key lighting, highlighting the texture of high-grade fabrics and unique design process, LED strip light outlines the sense of lines for the entire shopping space, creating a high-end shopping environment for customers.
The store entrance uses rail lights hidden in a dark slot to light up the entrance and door sign, giving a simple and beautiful feeling.
The windows on the left and right use CSL004-A grille elephant trunk lights to light up the models and products. The design of the whole doorway with comfortable lighting design can make the customers' eyes bright, attract them to enter the store and give the store the effect of attracting traffic.
The center island area uses TRL003 series rail spotlights with CRI greater than Ra90 to do key lighting for clothes, highlighting the focus of the merchandise display, distinguishing the main and secondary, creating a high-end shopping atmosphere, better showing the texture of the clothes fabric, best restoring the original color of the clothes, and guiding consumers' impulse shopping.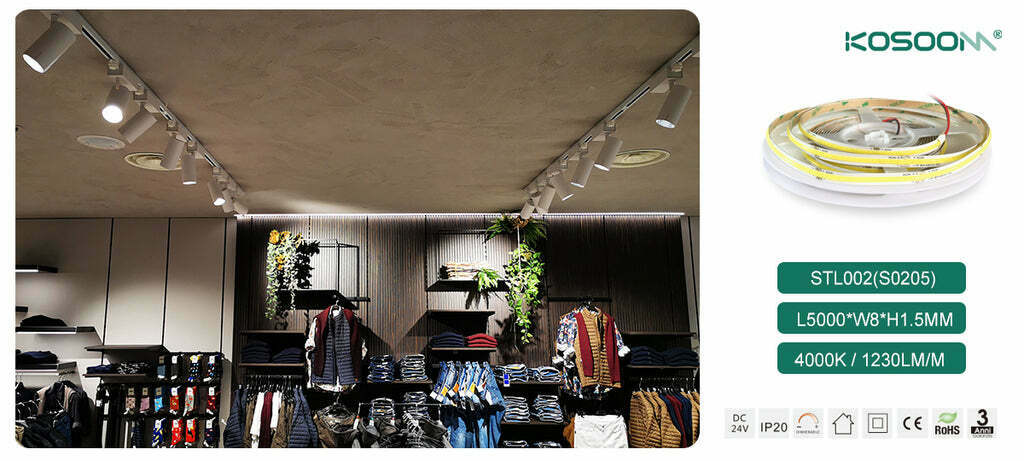 The light strip STL002 is concealed and lit in the corner, outlining a sense of line for the entire shopping space, which can effectively create a sense of dynamic orientation.
Considering the dead corner of lighting that other stores often ignore, and in order to create a good sense of hierarchy and design of the entire business environment, we use the STL002 concealed storage table to do local lighting, STL002 uses COB light source, uniform luminescence, soft light, no glare, no eye injury and other advantages to bring customers a better shopping experience.
The use of bar CSL001-M lamps arranged in staggered height at the checkout counter not only ensures the lighting required for work but also makes the lamps harmonize with the overall fashionable atmosphere of the store.
Corresponding products
TRL003STL002CSL001-M
Advantages of lighting solutions
stinguish between primary and secondary lighting to create excitement!
Highly visible finger to enhance the product quality, stimulate the desire to buy, enhance the purchase rate
Stable temperature control of the luminaire enables the luminaire to last up to 30,000 hours, while reducing energy consumption and saving approximately 1,000 Euros per year in electricity costs compared to conventional luminaires, and the longer the luminaire is used, the more significant the energy savings! (Estimation using 8h X 365d)
Kosoom provides free consulting and lighting design services for customers, from program planning to technical support for the installation and commissioning of lamps and lanterns. We have a strong product supply chain with CE and ROHS certified products, a complete product portfolio, online service response within 24 hours, faster delivery.