MR&Er pursues exquisite, elegant, fashionable and soft clothing. KOSOOM combines its simple and elegant brand atmosphere to provide a suitable lighting solution for this purpose. The project address is located in Trg djece Sarajeva 1, Sarajevo 71000, Bosnia and Herzegovina.
Design and installation plan
Combining the concept of "simplicity and elegance", taking into account the presentation of product details, integrating the elegant and minimalist style of the entire store, using the combination of accent lighting and general lighting to provide overall lighting for the store, providing customers with simple and high-quality products, and serving customers Bring a shopping experience of comfort, elegance and emotional value.
The entrance of the store is hidden in the dark groove with track lights, and the entrance and house number are illuminated, giving people a simple and beautiful feeling.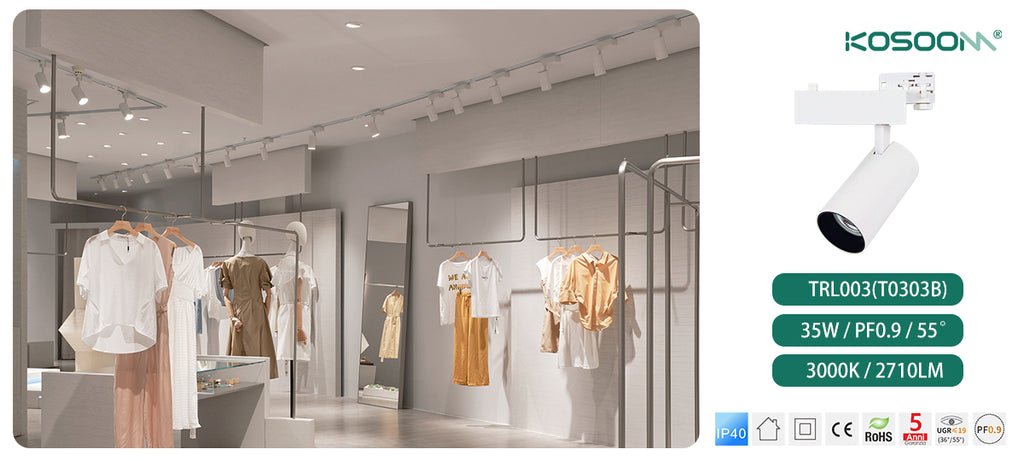 "The clothing display area adopts TRL003 series track spotlights with a CRI greater than Ra90 for the key lighting of the clothes, highlighting the key points of product display, better showing the texture of the clothes, and creating a comfortable and elegant shopping environment for customers.
The aisle area adopts adjustable angle CSL003-A series spotlights to outline the space decoration objects and provide aisle lighting at the same time, forming a slight light source contrast to make the space more comfortable. "
STL002 series light strips are used for ambient lighting on the background wall of the rest area, and CSL001-A series spotlights are used for decorative lighting according to the furniture layout, making the space more layered.
Corresponding product:
TRL003STL002CSL001-ACSL003-A
Advantages of lighting scheme:
Distinguish primary and secondary lighting to create a comfortable and elegant shopping environment! High CRI improves product texture, stimulates purchase desire, and increases purchase rate! Stable lamp temperature control makes lamp life up to 30,000 hours, while reducing energy consumption, and the longer the use time Longer, the more obvious the energy-saving effect!
Kosoom provides customers with free consultation and lighting design services, from program planning to technical support for lighting installation and commissioning. We have a strong product supply chain, products have passed CE, ROHS certification, have a complete product portfolio, online service response within 24 hours, faster delivery speed,