KOSOOM ×  EMY
"EMY is located at Via F. Cravero, 184, Grugliasco. It has a large area. The different sales areas are divided according to the type of goods sold. Each area requires its own solution for lighting application.
In order for customers to consider shopping as a kind of leisure activity and entertainment, stores must create a pleasant shopping environment through the lighting of the space. "
Design and installation solutions
Entrance area:
use linear luminaire SLL003-A series to do modeling, as the supermarket entrance highlight, to attract customers into the store.
Passage area:
use SLL003-A series lamps and lanterns to cover the passage range precisely, create uniform basic lighting, while lamps and lanterns guide, improve the passage rate!
Department store area:
double rows of shelves in the middle using SLL003-A line lights plus TRL003 track light series, left and right sides to illuminate the elevated shelves of goods lighting, while creating a side field uniformity of wall washing lighting!
Cashier area:
SLL003-A series lamps are used to create uniform working lighting for easy identification of goods and cashier operation.
According to the supermarket shopping dynamic, the use of lighting in the appropriate areas to create excitement / magnet point setting helps to attract customers into the deep supermarket and enhance the rate of display of goods.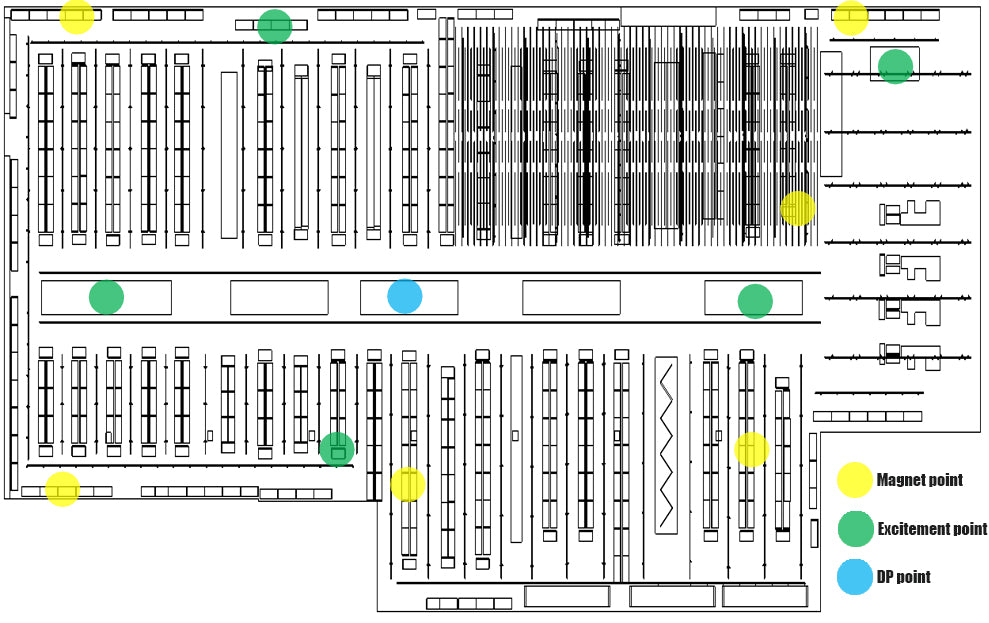 Entrance area:Use linear luminaire SLL003-A series to make bright average lighting for the entrance to attract customers' eyes and enhance the rate of customers entering the store!
Passage area:Main channel area with SLL003-A series luminaire application 110 °, can be combined with a variety of shapes, accurate coverage of the channel range, to create a uniform base lighting, while the lamps and lanterns to guide, improve the passage rate!
Department store area:SLL003-A line light plus TRL003 rail spotlight combination lighting is used in the middle of double rows of shelves. SLL003-A line light with double partial light distribution characteristics can illuminate the left and right sides of the shelf goods lighting, with TRL003 rail spotlight focus on lighting shelf goods, creating excitement / magnet point, which helps attract customers to enter the deep supermarket, enhance customer dwell time, increase customer experience, and promote the desire to buy!
<p style="padding-left: 30px;"Middle department store area:Linear lamps and lanterns MLL003-AMLL004-A series can be used to splice patterns or brand logos to ensure illumination and at the same time attract customers' eyes and improve their stay rate!
SLL003-Aseries lamps are used to create uniform working lighting for the checkout counter, making it easy to identify products and checkout operations
Corresponding products
Entrance area:SLL003-A series
Passage area:SLL003-A series
Department store area: MLL003-AMLL004-ATRL003SLL003-A track light series
Cashier area:SLL003-A series
Lighting program advantages
Distinguish primary and secondary lighting to create excitement!
Significantly refers to enhance the product quality, stimulate the desire to buy and improve the purchase rate!
Stable lamp temperature control, so that the lamp life up to 30,000 hours, while reducing energy consumption, every 100 lamps than traditional lamps save electricity costs about 2900 euros per year, the longer you use, the more obvious energy-saving effect!(Estimation using 8h X 365d)
Kosoom provides free consulting and lighting design services for customers, from program planning to technical support for the installation and commissioning of lamps and lanterns. We have a strong product supply chain, products are CE, ROHS certified, with a complete product portfolio, online service response within 24 hours, faster delivery.