Have you ever dreamed of creating stunning lighting effects in your home? Now, there's no need to fantasize anymore.LED strip lights are a simple yet powerful tool that can make your home lighting creative and vibrant. In this post, we will teach you how to install LED light strips in your home to instantly dazzle your space.
Preparation
Before you start, some preparations are needed first.
Choose the right type of LED strip lights: there are various types of LED strip lights, including monochrome, multi-color, RGB and so on. Before choosing, you need to consider your lighting needs and personal preferences. Single-color LED strips are usually used for regular lighting, while colorful and RGB strips can create more diverse effects.
Measure and plan your lighting needs: before purchasing LED strips, measure the area you wish to illuminate and determine the length and location of the LED strips. This will help you determine how much LED strips and accessories you will need.
Gather necessary tools and materials: Some basic tools and materials are needed to install LED strips, including: LED strips, power adapters, connectors, remote control, scissors, tape, measuring tools, gloves
Safety Precautions
Before installing the LED strip light, please be sure to pay attention to the following safety matters.
Electrical safety: First, disconnect the power supply. This is very important to avoid the danger of electric shock. Make sure you are working in a safe electrical environment.
Fire prevention measures: LED strip lights generate relatively low heat, but still require some heat dissipation. Make sure you don't install LED strip lights on flammable materials to prevent fire hazards.
Avoid glare: LED lights are bright and focused, avoid looking directly at the LED light source to avoid eye damage. Use a suitable lampshade or shield to reduce the glare.
Installation of LED strip light
Before you start installing the LED light strip, make sure to prepare the work area well. Below are some important steps:
Clean up the installation area: Make sure that the chosen installation area is clean and free of dust, dirt or debris. This step is crucial as any dirt or obstructions may affect the adhesion and performance of the LED strip lights.
Surface is flat and clean: Inspect the mounting surface to ensure that it is flat and clean. Uneven surfaces can lead to blistering or unevenness in the installation of the LED strip. If the surface is uneven, consider using filler or frosting for better adhesion.
Mounting LED Strip Lights
Determine the correct installation location: carefully consider the best location for the LED strip lights before installation. You can install LED strip lights on walls, ceilings, furniture or other areas that need to be illuminated. Make sure you choose a location that meets your lighting needs and consider options for hiding the strip for a more aesthetically pleasing effect.
Cutting and connecting the LED strip: use sharp scissors to cut the LED strip to the desired length based on your previous measurements.LED strips often have cut points where you can make cuts to ensure that you don't damage the LED beads. Once you have finished cutting, connect the different segments of the LED strip together using the appropriate connectors. Make sure that the connectors are secure to ensure that the current transfer is smooth and will not cause the strip to disconnect.
Fixing the LED Strip: It is very important to fix the LED strip to ensure that it is securely affixed in the chosen location. You can choose from the following ways to fix the LED strip:
Use double sided tape: Double sided tape is a simple and effective way to affix the LED strip to a smooth surface. Make sure the tape adheres firmly to avoid gaps or looseness.
Use brackets: For situations where additional support is required, consider using a bracket or bracket fixture to secure the LED strip. This is useful for vertical installations or where additional support is required.
Consider light guide strips: If you want a more even distribution of LED light, consider using light guide strips, which can be placed on top of the LED strip to improve light distribution.
Connecting the power supply
Install the power adapter: The power adapter is an important part of the LED strip, it converts the supply voltage to a voltage suitable for the LED strip. Install the power adapter in a location close to and easily accessible from the power outlet for subsequent connection and operation.
Connecting the power cord: Plug the power cord into the power adapter and make sure the connection is secure. When connecting the power cord, pay attention to the polarity and make sure that the positive pole is connected to the positive pole and the negative pole is connected to the negative pole.
Connecting the LED strip to the power adapter: Use the appropriate connector to connect the LED strip to the power adapter. Make sure the connector is secure and there are no loose parts. Check the polarity again to ensure proper connection.
Control methods
There are various ways to control the LED strip light, you can choose the right way to operate the LED strip light according to your personal preference and needs.
Using Remote Control: Most LED strip light kits are equipped with remote control, they can easily control the switch, brightness and color of the LED strip light. The remote control usually features various preset modes such as fading, jumping, breathing, etc., which can be selected according to different occasions.
Install smart switches: If you want smarter control of your LED strip lights, consider installing smart switches. These switches can be connected to a smartphone app that allows you to operate the LED strip lights via cell phone or voice control. This is a convenient and modern way to control them.
Whichever control method you choose, you can easily adjust the lighting effects of your LED strip lights to suit different occasions and moods. LED light strips are flexible to install and control, enabling you to customize your home lighting to your liking.
If you want to know more about LED Strip Lights installation and design, Kosoom's blog page has more related contents, such as "LED Strip Lights: The Ultimate Guide to Installation and Design" and so on. May your LED strip light installation process go smoothly and bring a unique lighting effect to your home.
DIY Creativity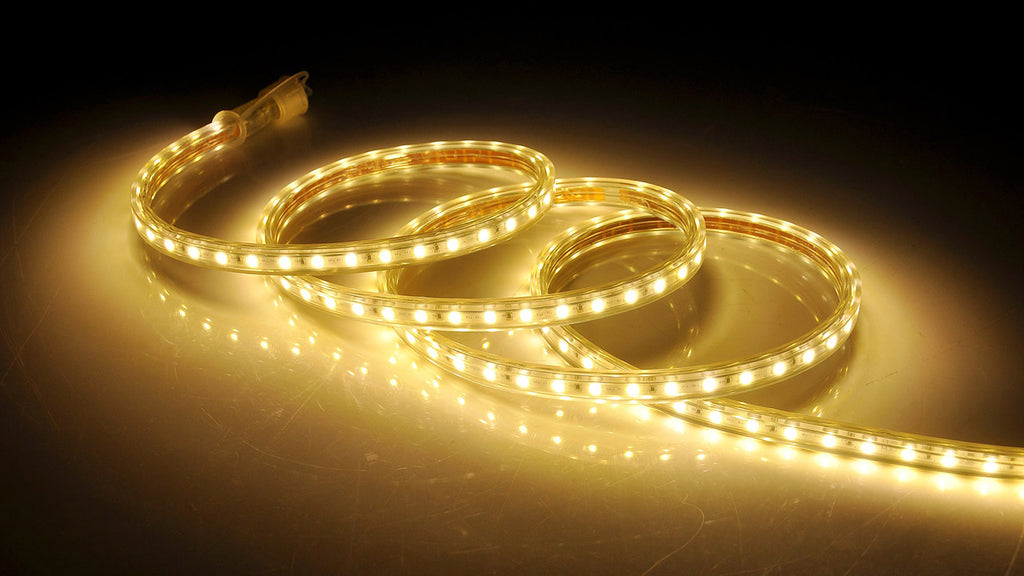 Create light effects: using a remote control or smart device, you can experiment with a variety of different light effects, such as running water, fading, and bouncing. These effects can be adjusted to suit different occasions and moods, creating stunning lighting effects.
Hidden LED light strips: to create a more mysterious effect, you can hide LED light strips under furniture, closets or stairs. In this way, the light will be projected indirectly, creating a stunning atmosphere.
Customized Lighting Solutions: Adjust the color and brightness of the LED strips to meet your needs for different occasions and moods. Whether it's a relaxing atmosphere or an energetic one, LED light strips can meet your requirements.
Maintenance and Troubleshooting
Care and maintenance of LED strip light is very important to ensure its long-term normal operation.
Regular cleaning: The surface of the LED strip light needs to be cleaned regularly to keep the light bright and clear. Use a soft cloth to wipe the surface of the strip light.
Replace damaged parts: If you find that the LED strip or connecting cable is damaged, replace it in time to ensure the lighting effect. Don't ignore any problems so as not to affect the overall lighting.
Common Problems and Solutions: Don't worry if there is a problem with the LED light strip. Check the user manual or online resources to find solutions to common problems. Many problems can be solved easily.
Application of LED Strip Lights
LED strip lights are versatile lighting tools for various occasions and provide different lighting effects to make your life more colorful. The following are examples of LED strip light applications in different occasions:
Living room and bedroom
The living room and bedroom are the core areas of family life, and LED strip lights can bring a unique atmosphere and comfort to these spaces.
Warm Ambiance: Using soft warm white or dark LED strip lights can create a cozy atmosphere suitable for relaxing, watching movies or reading.
Romantic night: Adjust the color and brightness of the LED strips to create a romantic atmosphere for special occasions or romantic dinners.
Energetic: If you like to host parties or social events in your home, LED strips can light up the space in a colorful way to create a vibrant atmosphere.
Kitchen and Dining Room.
In kitchens and dining rooms, kitchen LED light strips can provide bright and functional lighting effects while enhancing the dining experience.
Bright workspace: Installing LED strips on kitchen worktops ensures that there is enough light to work efficiently while ingredients are being handled and cooked.
Dining Atmosphere: Create a cozy dining atmosphere by installing LED light strips on top of the dining room or underneath the table. You can choose white light to highlight the colors and textures of the food.
Bathrooms and toilets.
Bathrooms and toilets are places for daily relaxation and cleaning, and LED light strips can provide a pleasant lighting effect.
Tranquil bathing: Make bathing a pleasure by installing LED light strips around the bathroom mirror or near the bathtub, using soft colors to enhance relaxation.
Night navigation: Install LED strips on the floor of the bathroom or in the corridor to be used as night navigation lights to avoid foot-turning at night.
Customized Ambiance: Adjust the color and brightness of the LED strip lights according to your personal preference to create an ambiance that suits your current mood.
These are just a few examples of how LED strips can be used in different settings.The flexibility and versatility of LED strips make them ideal for personalizing your home lighting. Whether you're looking to enhance the ambiance of your home, improve productivity, or create a unique experience for a special occasion, LED strip lights can fulfill your needs. Explore different ways of application to add more color and fun to your life.
KOSOOM Brand Guidance
In the world of home lighting, quality and variety are crucial. As KOSOOM brand, we provide you with excellent lighting solutions with our many years of lighting experience, which not only includes high quality LED strip lights, but also covers a wide range of other fixtures, such as panel lights and linear lights, creating more possibilities for your home lighting.
Multiple choices, colorful life
KOSOOM is committed to providing your home with a variety of lighting options to meet different occasions and personal preferences. In addition to LED strip lights, our product line also includes panel lights, a modern and stylish lighting option. Panel lights feature a thin design that evenly distributes light for a variety of spaces, from living rooms to offices. If you're looking for more creative and unique lighting, we also offer linear lights, which are suitable for creative décor and lighting schemes that turn a space into a work of art.
High Quality Guarantee
The KOSOOM brand is known for quality, and each of our products undergoes strict quality control to ensure consistent performance and reliability over time. Whether you're looking for long-lasting LED strip lights or high-brightness panel lights, we guarantee you with superior quality. We understand that lighting is not only a function, but also an art, so we constantly strive to innovate and bring more surprises to your home lighting.
Customer First
The KOSOOM brand has always been about putting the customer first, and our products and services are designed to meet your every need. Whether you are upgrading your home lighting or looking for ideas, we have the right solution for you. Our team of professionals are on hand to provide you with personalized advice and support to ensure that the lighting solution you choose fits your space and needs perfectly.
Whether you are looking for LED strip lights, panel lights or linear lights, KOSOOM has the best options for you. Explore our range of products to transform the way your home is lit and bring an unrivaled lighting experience to your space. Light up your life with KOSOOM!
FAQ
Q: Where can LED strip light be used?
A: LED strip lights are very flexible and can be used in a variety of places including living rooms, bedrooms, kitchens, dining rooms, bathrooms and toilets. They are also suitable for commercial places such as stores, bars, restaurants and offices. You can choose the application of LED strip lights according to different needs and occasions.
Q: How to install LED strip lights?
A: The installation of LED strip lights is relatively simple, but you need to pay attention to some details. First, make sure the installation area is clean and flat. Then, cut and connect the LED strip as needed and secure it to the chosen location using double-sided tape or brackets. Connect the power adapter and make sure all connections are secure. Finally, choose a suitable control method, such as remote control or smart switch, to control the brightness and color of the LED strip.
Q: What is the lifespan of LED strip lights?
A: LED light strips usually have a long lifespan, which can reach tens of thousands of hours. Its lifespan depends on a number of factors, including quality, frequency of use and environmental conditions. Generally, good quality LED strip lights can last for many years without needing to be replaced.
Q: How to maintain LED strip lights?
A: Maintenance of LED strip lights is relatively simple. Regularly check whether the connection is firm and make sure there are no damaged or disconnected parts. If problems are found, replace the damaged parts promptly. In addition, keep the LED strip clean and wipe the surface regularly to ensure even light dispersion.
Q: What other lighting products does the KOSOOM brand offer?
A: The KOSOOM brand offers a wide variety of lighting products, including LED strips, panel lights and linear lights. Panel lights are suitable for a variety of spaces because of their thin design and even distribution of light. Linear lights are suitable for creative decorative and lighting solutions with unique designs.KOSOOM is committed to providing our customers with high quality lighting solutions to meet a variety of lighting needs.