Lighting plays a vital role in modern interior and exterior decoration. And when it comes to lighting, LED strip lights have certainly become a highly sought-after option. Amongst this family of LED strips, blue LED strips stand out for their unique appeal and versatility. Whether as decorative lighting or to fulfil a specific function, blue LED strips offer endless creativity and inspiration.
This article will take you through the different uses, decorative tips and different voltage options of blue LED strips to give you a taste of this blue dream world.
1. Blue LED strips: decorative lighting for creating a fantasy world
The blue LED strip is a member of the large family of LED strips that can be used not only for decorative lighting but also for a variety of functions. Sometimes the uses of this strip of light can exceed our expectations and bring about surprising effects. Enter the fantastic world of blue and discover its charms!
Choosing the right color of LED strip is crucial to the lighting effect. LED strips offer a wide range of lighting colors and shades for us to choose from. It is worth noting that each person's perception of light is unique. Research has shown that ambient light plays an important role in how the brain processes emotional stimuli. When the ambient light is blue, emotional responses tend to be stronger than with green light. Therefore, the choice of lighting colour for LED strips can also have an impact on mood.
Blue is considered to be a colour that brings calm and relieves stress. When we gaze at the azure sky and the vastness of the sea, the call of the distant horizon makes us feel serene, as if we are far away from the hustle and bustle around us. We fall into a reverie and immerse ourselves in this dreamlike world.
In decoration, blue has always been seen as a force that can expand the sense of space and small rooms. Therefore, when choosing LED strips, we recommend considering blue to create a unique lighting atmosphere.
By using blue LED strips, we can create an invigorating decorative lighting effect. They can be used for home décor, commercial spaces, outdoor landscapes, vehicle and motorbike décor, and even for stages and performances. Whether in a cosy home environment or a creative commercial venue, blue LED strips add a unique charm and appeal to a space.
2. Multiple applications for blue LED strips: creating fascinating lighting indoors and out
Blue LED strips have a wide range of applications, both indoors and outdoors, to create fascinating lighting effects in your environment. The following are some of the different scenarios in which blue LED strips can be used:
2.1 Blue LED strips in interior decoration
As a general rule, blue LED strips are often used in rooms with low light or where a romantic atmosphere is required. In the bedroom, you can install a blue LED strip under the bed or in the corner furthest from the bed to create an intimate and romantic atmosphere. In the living room, hang blue LED strips on the wall to liven up the TV space. In the bathroom, by installing a blue LED strip around the bath or mirror, you can enhance the lighting and create a pleasant bathing environment. In addition, blue LED strips can be used for furniture lighting, highlighting the design of the furniture and providing a decorative touch.
2.2 Blue LED strips in outdoor spaces
In outdoor spaces, blue LED strips can also create stunning effects. You can use blue LED strips in your garden or on your terrace to create a wonderland-like atmosphere for your party or barbecue. Install blue LED strips around a pergola, garden shed or low wall to bring a poetic light effect to your outdoor space by highlighting the contours of the vegetation. Alternatively, you can use the blue LED strip as a luminous beacon to illuminate your pathway for added safety and aesthetic appeal.
3. Creative decorating tip: Blue LED strip around decorations
3.1 Light up your kitchen with a blue LED strip
Installing blue LED strips in your kitchen can add a touch of glamour and a unique lighting effect. You can install LED strips on the top or bottom of cabinets to create a soft blue light and a cosy atmosphere in the kitchen.
3.2 Blue LED strip lighting in the bar
Using blue LED strips in the bar area can bring a modern and unique atmosphere to the space. You can install LED strips on the back of the bar counter or on the bottle rack to create a pleasing blue light effect and add to the appeal of the bar.
3.3 Lighting effects in the TV corner
Don't neglect the lighting in the corner of your TV, add flair to it with a blue LED strip. Installing led strip lights behind the TV cabinet or above the TV will provide soft blue lighting to make the TV viewing experience more comfortable and create a welcoming atmosphere in the room.
3.4 Blue LED strip decoration in ballrooms
Using blue LED strip lighting in a ballroom or party venue can create a fascinating light and shadow effect. You can install LED strips around the edge of the dance floor or on the ceiling to create a vibrant, non-blinding atmosphere with a soft blue light that gives the dance floor a unique appeal.
3.5 Blue cheer lighting for festive occasions
Blue LED strips can also be used for festive decorations to bring a festive and welcoming atmosphere to your home. You can install LED strips on interior walls or façades to create unique blue patterns and decorative effects that make the festive season even more joyful and memorable.
3.6 Blue LED strip decoration on staircases and balconies
By installing blue LED strips on staircases and balconies you can enhance the safety and decorative effect of your space. Install LED strips on the wall opposite the balustrade of the staircase to make the staircase brighter and more visible at night. Install LED strips on the balustrade or walls of balconies to create a romantic and cosy blue lighting effect and add a glamorous touch to outdoor spaces.
4. Blue LED strips at different voltages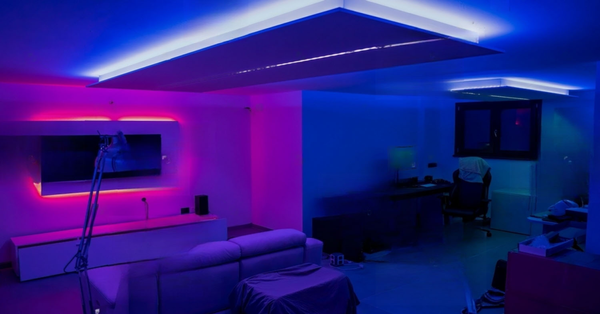 4.1 220V blue LED strip
Designed for outdoor lighting, the 220V blue LED strips offer striking advantages. They are waterproof and comply with IP44 and IP65 ratings, making them safe for use in a variety of harsh climatic conditions. These strips provide powerful brightness and intensive illumination with a power consumption of 12 watts per metre, giving your outdoor space an outstanding light effect. What's more, they are sold at a price per metre, making them very convenient and flexible. Best of all, thanks to the included cable, you can connect them directly to the power supply, simplifying the installation process.
4.2 12V blue LED strip light
If you are looking for a flexible led lighting solutions for both indoor and outdoor use, 12V blue LED strips are an ideal choice. For outdoor use, they must be waterproof and meet at least IP44 protection to cope with wet and variable weather conditions. These strips operate at low voltage and have a low power consumption of just 4.8 watts per metre, helping to save energy and the environment. When installing 12V blue LED strips you will need to use accessories such as connectors, aluminium profiles and transformers to ensure the correct power supply and safety performance. Whether for home lighting or for specific decorative effects, the 12V blue LED strip offers you creative and versatile options.
With their unique lighting effects and diverse uses, blue LED strips are a star in modern decoration. Whether indoors or outdoors, blue LED strips can bring creative lighting effects to your space and give it an individual style. From lighting up a kitchen to setting the mood in a ballroom, from decorating a festive atmosphere to adding a dreamy glow to a swimming pool, blue LED strips showcase their endless possibilities. Choose the right colour, voltage and installation location and you will be able to create a unique world of blue light.
Let's immerse ourselves in the wonders of blue LED strips and create a stunning decorative effect and lighting experience!
FAQ
Q: Where are blue LED strips suitable for use?
A: Blue LED strips can be used indoors and outdoors in homes and commercial premises. They are suitable for use in kitchens, living rooms, bedrooms, bathrooms, balconies and gardens.
Q: How much voltage is required for the installation of blue LED strips?
A: Blue LED strips are available in different voltage options. There are two common options, 12V and 220V, so you can choose the right voltage for your specific needs and installation environment.
Q: What are the decorative tips for the blue LED strip?
A: You can use the blue LED strip in the kitchen to illuminate worktops and light up the bar area. LED strips can be installed in the TV area to create soft background lighting. Blue LED strips can also be used in ballrooms, festival decorations, staircases and around swimming pools.
Q: What are the characteristics of blue LED strip lighting compared to other colors?
A: Blue LED strip is considered to be a calming and stress-relieving colour. Compared to other colours, blue light has the ability to influence emotional responses more strongly than other colours. Therefore, choosing blue LED strips in your décor can create a unique ambience for your space.
Q: What is the power consumption of blue LED strips?
A: The power consumption of blue LED strips is typically 12 watts per metre. This makes them an energy-efficient option that provides a bright lighting effect while helping to reduce energy consumption.