What makes supermarket lighting a key element in overall store design and ultimately a key factor in its success?
We all know that we live in a customer-centric, highly competitive 21st century. Over time, and especially since the start of the pandemic, online shopping has become increasingly popular. Retail giants have decided to strike a balance.

Some well-known brands have decided to fight the comfort of online ordering by providing their customers with an exquisite and convenient shopping experience. In doing so, they must also reduce operating costs to save money and stay competitive.

The development of new technologies has driven these changes, with higher efficiency LED lighting and more sophisticated control systems, new technologies offer the opportunity for your supermarket or store to lower energy consumption.
The core of shopping is an experience that engages all five senses. There is no single "right" way to provide a shopping experience, as long as it perfectly aligns with the product or service you are selling.

Here, we offer a great customer journey through wise selection and creative design to help you achieve maximum success.
We recommend that you ask yourself the following questions before you begin:
What emotions do you hope to evoke in customers while they shop?
What is your chain supermarket's philosophy/marketing approach?
What specifically do you want to emphasize/emphasize?
Market research over the past few decades has undoubtedly shown that even the layout of a supermarket can influence purchasing decisions. The placement of products, often unconsciously, determines which products end up in the shopping cart.
And what adds the finishing touch to this trend?
"Lighting."
Combining effective layouts with appropriate lighting not only enhances your supermarket experience, but also boosts profitability.

It is understood that different foods require specific types of fixtures - with LED technology now integrated into all types of products, there are no limits.
Improve general lighting
When customers look at your supermarket as a whole, the first thing they notice is the general lighting, which should be used to guide and direct shoppers through the store.

The combination of clearly defined sales areas and atmosphere will definitely enhance the experience that directly affects the decision-making process. Research has shown that a warm atmosphere and appropriate lighting will increase the time spent in the store, thus increasing the revenue generated from each visit.

With a customer-centric design, you can use lighting to create a dynamic environment that guides visitors through different areas. One key factor is ensuring that visual attention is always directed towards the desired merchandise in the correct area, using the appropriate fixtures. For example, using track-mounted spotlights to highlight products on shelves is often the recommended choice for high-value items.
meat preservation
Few people know that LED technology can play a crucial role in preserving freshness of perishable items, particularly meat products. LED technology can work wonders in helping to keep fresh goods fresh, and it is also very useful for other UV-sensitive products. Due to low levels of infrared and ultraviolet radiation, LED lighting can prevent unnecessary damage and accelerated aging of food and packaging materials.
Increase shopper's appetite with proper color temperature
Among the five senses of human beings, the eyes are the most frequently used and important means of interacting with the environment. The color and vibrancy of a product not only immediately attract the eyes, but also serve as the primary indicator of its freshness. Therefore, the correct color temperature and high CRI (Color Rendering Index) are crucial.

By using color temperatures that are suitable for specific product groups, fresh agricultural products such as vegetables, cheese, meat, and fruits can be presented in the best possible way, making them particularly attractive to customers.
cut the expenses
In addition to promoting sales and increasing revenue, selecting the appropriate lighting fixtures for supermarkets can also save energy and reduce operating costs. It is understood that lighting is the second largest financial expense for supermarkets after refrigerators and freezers. Research has shown that reducing lighting costs can save a considerable amount of money each year. Experts suggest that LEDs can reduce costs in multiple ways and save you money. They provide you with reduced energy consumption, saving you on your electricity bill. They have a longer lifespan, requiring less maintenance to maintain sufficient lighting levels. This results in lower maintenance costs. They produce much less radiant heat, thereby reducing HVAC costs.
Supermarket lighting type:
Checkout area: Linear lights, track lights, and spotlight fixtures are recommended.
Entrance area: Linear lights and track lights are recommended.
Shelving area: Linear lights and track lights are recommended.
Island area: Linear lights and track lights are recommended.
Aisle area: Linear lights and recessed lights are recommended.
Apparel area: Track lights and ceiling-mounted spotlight fixtures are recommended.

Use the right lighting in the right area
Warm white - 3000K

Root vegetables require warm light 2700K - 3000K
High intensity lighting is needed above lettuce and other leafy vegetables, with required illumination varying by region, but ranging between 2000Lx and 3000Lx"
Lighting has a significant impact on animal inventory products. Choosing the right product is essential to preserve and maintain freshness.
Meat
Warm white - 2700K to 3500K
Warm white enhances the appearance of the product by increasing the light in the red spectrum. This type of light brings out more natural colors, especially in meat, with required illumination varying by region, but ranging between 2000Lx and 3000Lx.
Fish and Poultry:
Cool white - 4500-5000K
Cheese, Bread, and Pastry:
By selecting the right light, we can prevent cheese oxidation and keep dairy products fresh, extending cheese storage time.
Warm white: 2700K-3000K. This type of light emphasizes red and brown tones
700 to 2000 Lx is an ideal choice for grab-and-go displays, such as shelves, refrigerators, etc.
250-300 Lux and low wattage light sources are the best option to avoid glare from wine bottles
Warm light - 2700-3000K
Cool white - 3000-4000K.
The recommended brightness for the working area is between 700Lx and 2000Lx.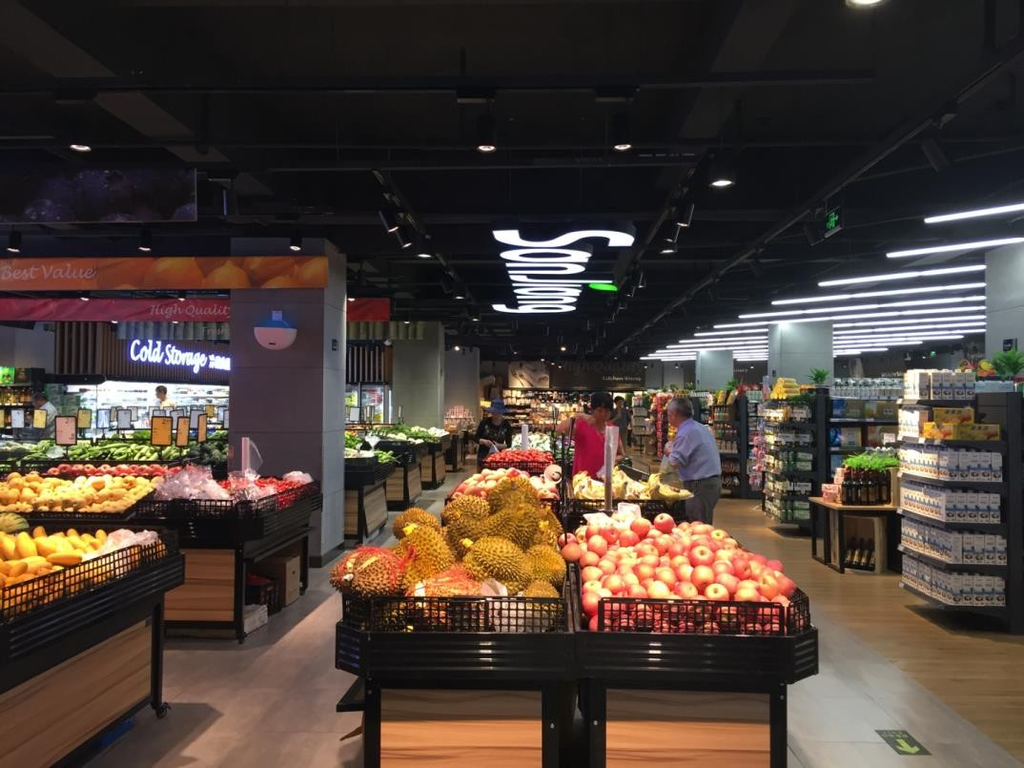 Supermarket lighting is one of the most crucial elements in your supermarket design. When conceptualizing the overall layout of the supermarket, you should consider lighting as an integral part of the entire process and plan accordingly from the initial stages to ensure optimal results.

In this modern competitive environment, innovation and optimization are essential. If you fail to be more creative and put customers first, your competitors surely will.

Now is the time to adopt a customer-centric approach and improve the shopping experience you provide by experimenting with appropriate lighting fixtures and color temperatures.
You are renovating or opening a new supermarket, but you are unsure which lighting fixtures are best suited to your needs?
KOSOOM provides free consultation and lighting design services for customers, offering technical support from project planning to lamp installation and debugging. We have a strong product supply chain, and all of our products are certified by CE and ROHS. We offer a complete product portfolio, with online service response within 24 hours and faster delivery speeds.